Anytime my wife and I get in special celebration mode, we think about stopping in at Scotty's for a drink.  We are both on the Birthday Chalkboard, we both have been on the receiving end of "Birthday" by the Beatles complete with bass drum accompaniment and we are usually lucky enough to see Scott.  Simply stated Scott Laskis is a true Kenosha icon. So when we rolled back into KTown after an anniversary dinner up in Milwaukee, we stopped in to Scotty's for one.  I'm so glad we did.  My wife took the only open seat in the place and it happened to be right next to Scott, and after the hugs hello and pleasantries we were given the excellent but kinda sad news.  Scotty's is closing for good Wednesday November 27.
First and foremost, good for you Scott.  You ran your place like you wanted.  You were unapologetically unique enough to be different yet possessed enough "KTown Saloon" to survive and thrive.  No one who went there with any regularity ever said "hmmm, I haven't seen Scotty around for a while".  You worked the place, and never was there a bar in Kenosha that was more reflective of its owner.  The chairs always lined up neatly as soon as a group would leave, impeccably and consistently clean, an excellent selection of beers decades before excellent selections of beers were commonplace…always an accelerated attention to detail.  Said my wife as we drove home after BSing with Scott for a couple hours that night, "and he always had THE softest toilet paper in the ladies' restroom" when discussing some of our favorite things about the place, she continued "I swear I'd stop in at Scotty's just to go to the bathroom".
That was and is the greatness of Scotty's and the greatness of Scott Laskis.  Attention to detail!  Whether it be the small pool table, the beer garden, the entertainment, the frosty mug, the politeness of the bartenders, there was always something slightly different about Scotty's and anyone that went there with any frequency knew it.  Personally I'd call it a "conversation bar" but my wife would call it a "I'm going in there to kick Scott's ass at cribbage" bar.  And I would undoubtedly get into a great conversation with someone about something…and she would end up winning a few and losing a few cribbage games to Scott and everything seemed right with the world for a little while.   The live music years were special, it was a great place to watch a game or to throw a mini-celebration, it was just a cool place with a cool vibe.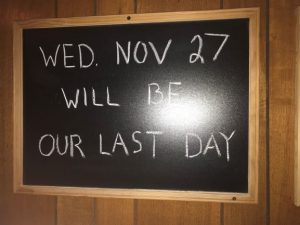 When we arrived Friday night, the sign mentioning the final closing of Scotty's was still only a few hours old.  The blessing of that is we now have as much knowledge as we can get regarding the time left to visit Scotty's multiple times before Scott calls it a career.  He has always looked unique, sounded unique and ran a unique establishment and I know my wife and I will miss stopping in and having some drinks and interacting with an extremely loyal "regulars" base.  Time is running short to stop in and get your fix of the "clean, well lit place" and relive all those great memories from years ago to days ago.  It is sad to see one of KTown's finest establishments come to the end of its run, but I'm happy for my friend Scott Laskis, he has most certainly earned the right to retire and enjoy life.  Cheers to Scotty's, a true Kenosha original pub.