Kenosha Softball HOF Profile: Paul "Puddles" Vagnoni
The Author and the Soundtrack of the Golden Age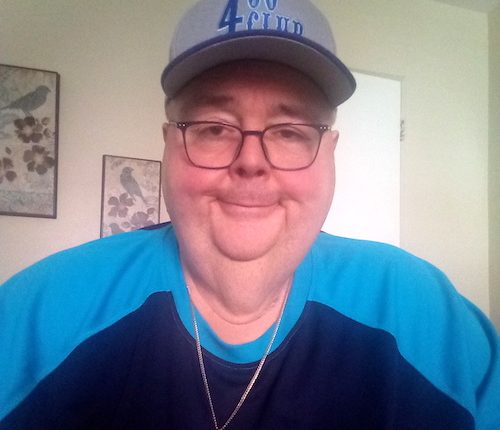 First and foremost, congratulations on your improving health.  Many of the folks that will read this are aware of your journey and it is good to see you close to playing shape!
Thanks so much for the kind words, Pat. It really has been quite a journey. So much so, I feel a "non-softball" book is certainly in the works.
Speaking of books, how important was it to you to write the 2 books that you have written about Kenosha area softball?
It was very important. Someone had to do it, and with some encouragement from you, I decided to step up to the plate. Kenosha media bigfoot, Lenny Palmer, put "More Kenosha Softball" into perspective when he said, "This book is more about the characters than the game; local heroes engaged in life and death struggles for the top of the heap in Kenosha, WI softball standings back in the glory days of the sport." With that in mind, I guess it was fairly important.
Things like "that's right the 5th" and "leather seeking missile" are a part of Kenosha history.  Yourself and fellow Hall of Famer Leon Rosko are the audio version of the Golden Age of Kenosha Softball.  That has to be cool. 
It's very cool. To this day, people bring up those phrases when they see me. During the course of 15 years and well over 3500 games announced, it is amazing the things people remember me saying from the booth. Some of it makes me blush.
Who hit the longest ball you ever seen hit at Finney's West Diamond 1?   
On Diamond 1, the most impressive blast I remember was a prodigious blow off of the upper right-hand corner of the Squirt scoreboard by Ron Funderburg. That was with a 12″ ball. The late Jim Darula was given a ground-rule double when he slugged a 14″ ball over the centerfield fence on one hop in the City Tournament. That was an amazing feat.
Was it out of love or necessity that you become a coach/announcer/organizer/author of the game you have spent your life involved in?
Definitely not necessity. I have loved all sports my entire life, especially baseball. Being a man of considerable size, it was hard for me to compete at a high level, but I still wanted to be involved. I guess that's where the managing, announcing, organizing and writing all became a part of my life.
What did going into the Kenosha Softball HOF mean to you?
When Hall of Fame President Dr. Jim Fulmer called me to inform me that I was going in, I was truly humbled. I never saw it coming and didn't know what to say. Hard to believe someone as verbose as myself could be speechless, but I was. Now, five years later, I can honestly say that I deserved the honor. I have definitely contributed a great deal to this wonderful sport.
Who is the best player not named Dick Laba that you have ever seen?
Hmm, not named Dick Laba you say. I will skirt the question and answer it in this manner:
Overall – Derek Gallagher
Pure Hitter – Bill Johnson
5-Tools – Jack Zimmerman
That I Managed – Bruce Meyers
Childhood Neighbor – Jeff Clark
Was there anything more entertaining than the James Mason Memorial Tournament at Finney's West back in the day?
In a word, NO! This event was so popular that parlay cards were printed to facilitate the considerable amount of wagering that took place. With Scott Maki on the mound and guys like Rocky Witzman and Louis Armstrong in the lineup, Mason's department 2836 squad was always the team to beat. Add in the yearly "is Tim Tegel eligible" controversy, and you had a tournament that rivaled the Rotary and City for pure entertainment value. And don't forget that the "Distinguished One," Ernie Pascucci was the unofficial tournament director. Definitely a Finney's West tradition.
Who is the best softball manager not named Paul Vagnoni in Kenosha Softball history? 
With all due respect to Tim Georno, Nick Scavone and Glenn Evenson, I would have to go with the infamous Gary "Wizard" Petersen, God rest his soul. There was no mistake on who was running the show. Wiz called the shots, whether the team was Matador, Bachelor's II, or Slim's Tap. He was in charge. Plus, his teams never looked like a bunch of gypsies. They always wore the finest uniforms, right down to the stirrups. And he made sure that everyone was wearing the same color shirt. They looked better than any other team and it reflected in their play.
As the caretaker of the written word of the sport everyone loved, what would you like to see different or changed or added or deleted concerning the "what is", "what was" and anything moving forward?
Wow, that's a tough one. Unless we all can jump into the DeLorean, we will never return to the Golden Age of Kenosha Softball. My only regret is that I didn't start recording the history of this great game decades ago. Jack Ostrowski and 2019 Hall of Fame inductee Glen Marescalco had the right idea 35 years ago when they published the "Play Ball" newspaper. I had the privilege of writing a regular column under the pseudonym, Xavier B. Harding. Too bad that fine publication only lasted one year. Another chunk of the era we loved so much that will never return.
One last question, could you manage the today version of the guys from 400 Club to a city league win on a Tuesday at 6 at  Lincoln Park 1?
Sure, I'd give it a shot. Here's my lineup:
1. Bruce Edmark LC
2. Matt Montemurro RC
3. Bruce Meyers SS
4. Kevin Mikolas C
5. Ronnie Clark 3B
6. Larry Tostrud RF
7. Glen Ekern DH
8. Jimmy Gentile LF
9. Danny Llanas P
10. Mark Montague 1B
11. Jeff DiCello 2B
Now, as far as winning goes, for whatever reason, we always had good success against Pitts and Snowblind. So, with that lineup and a matchup with either one of those teams, I like the Club's chances.