Northside Outfitters: A Bradford Community Creation
Northside Nation Delivers
**I'm always concerned about writing anything about educators and exposing my C+ grasp of the English language and C- ability to grammatically tell a story correctly. Apologies in advance.
Being a kid in high school is a challenge. They are currently asked to evolve at a very rapid pace and presented with challenges unheard of just a short time ago. Now imagine being that high school student and you really don't even have a decent winter coat. Or if personal hygiene supplies were hard to find when they were needed. Michelle Ishmael, Credit Attainment/German Teacher at Bradford High school always kept a Care Closet full of necessities, in her room, just in case one of her students had a need. That led her to consider expanding the Care Closet idea. "When I started asking staff to donate items, conversations began.  Bradford has had some emergency clothes for students and at one point had a dress exchange program for events like Homecoming and Prom, but no one was actively running anything.  Some staff were aware of Wilmot's Panthercrombie Store, which inspired the creation of a store of our own." The Northside Nation answered the call. "Some staff members got together for a brainstorming session and before long, Northside Outfitters was becoming a reality!"
Once the idea pressed forward, everyone was involved. "Last winter and spring, individual students volunteered hours to assemble all the clothing racks.  Student clubs and groups helped clean and organize the room.  Students submitted possible names and logos.  FBLA students ultimately suggested Northside Outfitters". Ishmael went on to mention, " Every item is washed before being made available to students.  That means there is a lot of laundry!  Students in the Special Education program have been washing clothes, folding them, and helping to put them away". Proving it not only takes a village…it helps build a village.
Michelle was quick to recognize the support from beyond Northside Nation. "Without the grant from the Education Foundation of Kenosha, we would not even be close to opening.  Their donation allowed us to secure much-needed equipment, but also gave the project momentum!  With their support, we were also able to get a separate donation from Uline and the district made it a priority to do some maintenance on the room a year early". The Care Closet located in Michelle's room had now become a school-wide project partially ran by the students and existing for the students and their families.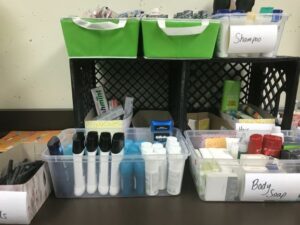 And there is need. Need for awareness, need for concern, need for help. "Right now, the biggest need is warm clothing.  Students need coats, sweatshirts, socks, and hats", said Ishmael.  "Every student who has shopped so far has been looking for sweatshirts and most of them have been very grateful that we have a selection of new socks". And a practical application exists that also carries some need, "we are building a collection of interview clothing, as well", said Ishmael.  "Employability is a requirement for one of the programs I'm involved with, and I help students develop a resume' and prepare for interviews.  Dressing for success boosts confidence and can improve the chances of being hired".
Everyone wins in this scenario. The students and their families know they have a resource they can count on. The teachers and administration provide assistance as well as opportunity. And a community benefits from a program that provides and promotes. Michelle was quick to pass around the praise stating, "the Bradford staff, eSchool staff, and the Kenosha community have been so generous with donations!".
Northside Outfitters is a work in progress but it is here to stay. Everything about this makes sense. It helps fill needs. It provides opportunity. It has a huge short-term upside and maybe even a better long-term upside. And most importantly, it is the right thing to do. Congrats to the Northside Outfitters for the development of a community-based resource. And mad pops to the visionary with the "Care Closet" for taking a good idea and making it into a great reality.
How can you help:
Donations of clothing or personal care items can be brought to Bradford High School at 3700 Washington Rd in Kenosha, during normal school hours.  There is a collection site at the main entrance, which faces 39th avenue and is closer to the stadium.
They don't yet have a way to accept electronic donations of funds, but checks can be mailed to Bradford, ℅ Northside Outfitters.  Checks should be made payable to Bradford High School.
In order to properly document everything that comes in, please include your contact information when making donations.