Textures Rx Beauty and Barber: A New Kenosha "Must Visit"
Granddaughter's Hair Day..I'm Too Old, Too Impatient and Too White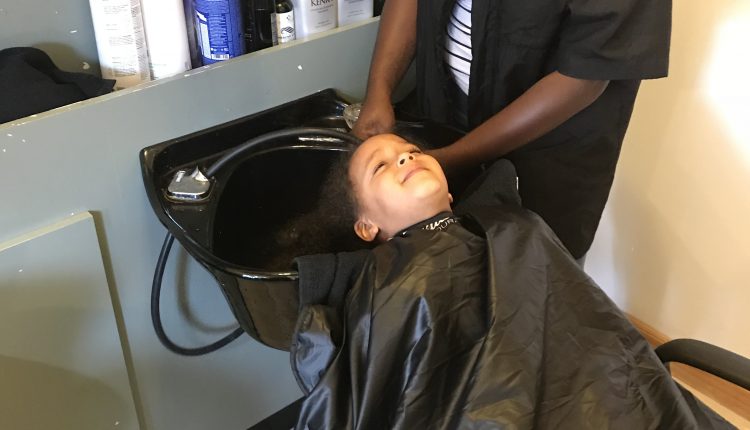 My granddaughter Layla will be 5 years old in January and until Friday, she had never had a haircut of any kind.  When the inevitable time came that her massive amount of hair had to be addressed there was only one person I'd trust to get the job done, and that is Jill at Textures Rx Beauty and Barber.  I've known Jill almost as long as I've known her husband Courtney Burrell Warfield, from way back when he was an outside linebacker at Carthage.  Textures Rx is in a perfect location on Roosevelt Road, it has a great ambiance and aroma and just a really cool vibe.  That all being said, I was still ill prepared to walk into my first "hair day" with Ms. Layla June.
First off, I was not aware this would be an undertaking.  I assumed that much like her mom and my other two daughters, that Layla's first haircut would be an act and not an event.  I was wrong.  When we walked in the door just her and I, like we were stopping into a convenience store to grab a soda, Jill kinda looked at us funny knowing this old man had no clue what was about to take place.  Layla just trusted her grandpa and is such a good kid to her core, she was going to deal with whatever came next.  What came next was a hair treatment, a hair lesson, a hair transformation and a hair beautification project.  It was actually pretty amazing to see.
The amount of effort and energy that went in to making Layla's hair amazing was truly a study in complete hair care.  We were over an hour deep in the process and Jill was still prepping her hair for cut and style.  The medicated hair wash and rinse and the care needed to get everything ready for Phase 2 of the afternoon was quite involved, quite necessary and absolutely nothing I am used to.  Jill's explanation of where and how much to cut made complete sense and I knew it wouldn't send Layla's mom off the edge by allowing too much to be cut.  At the height of the prep work, my granddaughter's hair combed out completely, she looked a little like Cousin Itt from The Addams Family.  The perfect cuts were made, the massive mane was balanced and free of split ends, and now Phase 3 would begin.
Braided hair looks amazing when finished, but it is a journey to get there.  Layla was tabbed a "tender head" by Jill and her sister while they were working on her during Phase 3.  My daughters, coming from two white parents, never had the hair challenges or the possibilities that Layla has, coming from a white mom and a black dad.  It truly is apples and oranges in terms of approach, action, possibilities and styles.  Safe to assume none of the Hegewald girls rolled out with braids back in the day.  Layla June looks dynamite in braids.  It was important to me to be able to trust someone who knew that which it would be impossible for me to know beforehand.  I'm too white.  That aint a bad thing or a good thing, that just is what it is.  Jill knew that because she knows me and she knows I trust her to be a pro…which she most certainly is.  And when it was all said and done, Layla looked fantastic!  More importantly to me, she felt fantastic (and I was pretty sure her mom wasn't going to go nuclear on me for messin' with her baby's hair).
The moral of the story is, if you have a granddaughter, pack a lunch if you are taking her to get her hair done.  If you know someone you can trust…for anything…go with your instinct and trust them.  And if you don't know someone you can trust, go see Jill at Textures Rx Beauty and Barber, because they take a healthy approach to their client's needs and requests.  Thanks Jill for a job so well done!