Saturday afternoon was just "one of those days" at Wrigley Field on the north side of Chicago. The kind of day every Cub fan loves to see and the kind of day every Cub fan dreams of experiencing. The family of Logan Thomas was there. They were there to mourn the loss of Logan. They were there to celebrate Logan's life by hanging out in the bleachers that he loved. They were there living a reality of life's highs and lows. And as Jeff and Taryn and Mitchell and Spencer sat in the stands, heartbroken that Logan was not there sitting beside them, they enjoyed the type of game that Logan and the baseball gods presented that afternoon at The Friendly Confines. Bomb after bomb left the park and a team averaging 2.6 runs a game decided it was the right time to unleash the offense. Baez, Bote, and 2 each from Bryant and Contreras provided the fireworks for this celebration of the life of a Cubs fan gone far too early.
Logan's Colorado apartment was decorated with multiple Wrigley Field and Cubs signs. His shower curtain…Cubs. His wardrobe…Cubs, Packers, Badgers, and lots of golf wear from his times as an Assistant Golf Professional, with stops including Geneva National, Gainey Ranch in Scottsdale, and Castle Pines in Colorado. Like his father Jeff, a fantasy sports founding father (and my good friend JT), Logan loved sports and he sure loved the Cubs. His dad and Grandpa Rick made sure of that. Having Logan's name on the scoreboard before the bottom of the 5th inning was a perfect tribute to a Cub fan and a beloved family member that would have loved every second of that game.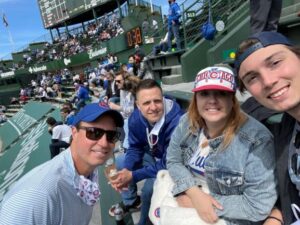 Logan's father knew the best way to honor his son, "We knew we had to go to a game and smile a bit, after a tough week. I can tell you Logan was here today. No doubt in my mind. This was Logan's game." In this time of great sorrow for the Thomas family, it was baseball and the Chicago Cubs that gave their broken hearts a brief moment of joy. A six home run day and a 13 run outburst to help celebrate the life of Logan Thomas was his family's refuge, even if for only a few hours. Being a Cub fan was a part of Logan's spirit, showing out in almost everything he did. It is only fitting that his spirit and his family left behind to mourn his passing were able to experience one great Cub ass-kicking together and celebrate the life of one of their own who will be greatly missed. RIP Logan Jeffrey Thomas (1992-2021).