Big Dance of Kenosha Bars: The Port, Cheers, Bill's and Swedish American to the Elite 8
Half The Elite 8 Set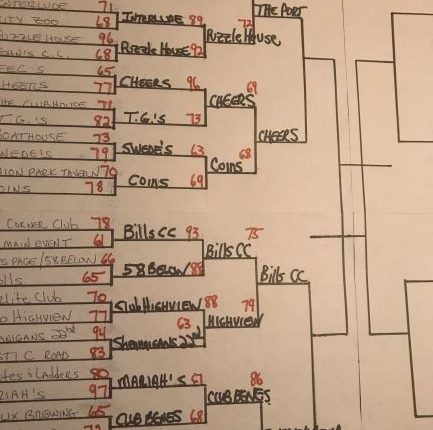 So half of the Elite 8 of The Big Dance of Kenosha Bars is set.  The Port, Cheers, Bill's and Swedish American have punched their ticket to Saturday's games and are all one win away from the Final 4  Here is how the games played out:
Once again it was a Die Monster Die reunion tour at the Port that whipped the locals into a frenzy and propelled No 9 seed, The Port, to yet another upset win with a 79-72 victory over No 4 seed Puzzle House in the East Regional Semi-Final.  The Port has now took down the 8, the 1 and the 4 seed in the East and have absolutely earned their place in the Elite 8.
Cheers and Coins went toe to toe the entire contest, and in the end it was No 6 seed Cheers moving on by way of a 69-68 brawl against No 2 seed Coins.  Cheers erased Fec's, TG's and Coins, all classic Kenosha venues.  That means it will be either The Port or Cheers representing the East Regional in the Final 4 of The Big Dance of Kenosha Bars.
East Regional Finals 
The Port of Kenosha (9) v Cheers (6)
(Line: The Port -2)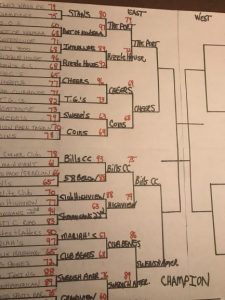 In the Southeast Regional Semi-Finals, Bill's Corner Club and George's Club Highview went at it like they did in pool and darts and softball and bowling, some 20 years ago, with Bill's getting the W in a barn burner. The No 1 seed Bill's bested the No 12 seed Club Highview 75-74.  These two fantastic establishments represented all their regulars through the ages in a well fought contest.  
And No 7 seed Swedish American continued their impressive roll through the Southeast with an 89-86 win over No 3 seed Club Bene's. That sets up a Southeast Regional Final between Bill's Corner Club and The Swedish American Club…two bars that are separated by about two football fields.   We can call this one The Battle for 30th Ave as these two neighbors mix it up on Saturday to see who goes to the Final 4.
Southeast Regional Finals
Bill's Corner Club (1) v The Swedish American Club (7)
(Line: Bill's -5.5)