Big Dance of Kenosha Bars: Club Icon, Mike's, Scotty's and Kenosha Tap Complete The Elite 8
All One Game From The Final 4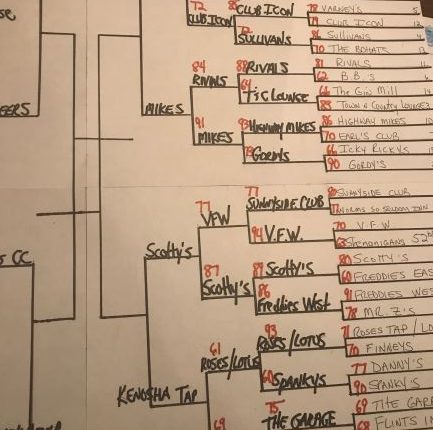 So the other half of the Elite 8 of The Big Dance of Kenosha Bars is set.  Club Icon, Uncle Mike's Highway Pub, Scotty's and Our Kenosha Tap have punched their ticket to Sunday's games and are all one win away from the Final 4  Here is how the games played out:
Club Icon knocks off yet another No 1 seed with a W over Brat Stop by a final of 72-69 to open play in the West Regional Semi-Finals.  The No 12 seed Club Icon has now beaten a the 5, the 4 and the 1 seed in the West staking their claim to Elite status in the Big Dance of Kenosha Bars.
And No 10 seed Highway Mike's made their neighbor, No 11 seed Rival "say Uncle" in a 91-84 triumph.  Mike's simply had too many beers and too much food and ran up the offense while punching their ticket to the Elite 8.  Now it is Club Icon next with a trip to the Final 4 at stake.
West Regional Finals
Club Icon (12) v Uncle Mike's Highway Pub (10)
(Line: Pick 'Em)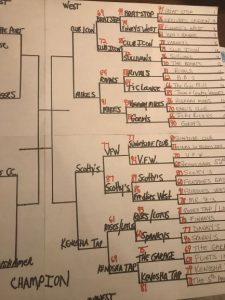 In the Midwest Regional, No 5 seed Scotty's continued to stave off retirement with a 87-77 victory over the No 8 seed V.F.W.  That moves Scotty's into the Elite 8 and certainly gives them ample reason to keep the doors open….whenever we can all open any doors again.
And the last ticket to the Elite 8 went to No 15 seed Our Kenosha Tap by way of a 69-61 knockout of Roses/Lotus.  The battle of 60th Street belongs to the Cinderella Kenosha Tap as they go up against powerhouse Scotty's with a trip to the Final 4 on the line.
Midwest Regional Finals
Scotty's (5) v Our Kenosha Tap (15)
(Line: Scotty's -7.5)