David Leiting Jr. : This Former Kenoshan's Future Is Up In The Air
Flew An Aircraft Across The Country That Was Built In A Week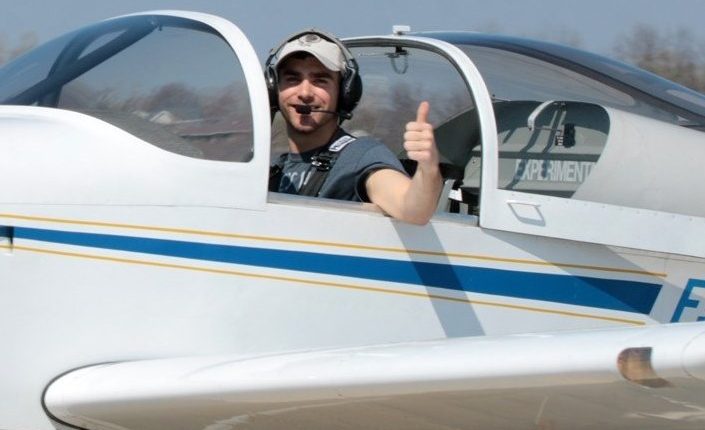 Having known you for most of your life, I know flying and specifically EAA was something that you were committed to at a very young age…why planes and why EAA? 
My passion for aviation dates back to when I was, oh, the ripe ole age of 6 months… That was the first year I attended EAA AirVenture Oshkosh with my parents. Although I don't remember that trip, for as far back as I can remember, the aircraft that always intrigued me where the WWII Warbirds. The sights, sounds, and smells of these aircraft really cannot be described. Only experienced. Kenosha used to be meeting point for these Warbirds the week before "Oshkosh." So, my parents would drop me off at the Kenosha airport to watch them practice their formation flying work for the days leading up to their departure to Oshkosh, I just couldn't get enough of it!
EAA was a natural fit, being that Kenosha was only 2 hours down the road. Living that close to the world's premier aviation event exposed me to so many amazing aviation experiences. The Concord, Voyager, Space Ship One, the Harrier, F-22, all the Warbirds, more Ultralights and Vintage aircraft than you can shake a stick at, and of course the marvelous homebuilt aircraft. In addition to the aircraft, the shear traffic saturation always excited me. To see the little airfield, Wittman Regional Airport become the busiest Control Tower in the world is amazing. Especially considering 95% of the traffic is light general aviation aircraft. However, even more so than the aircraft, the people of EAA Oshkosh amazed me. The folks who attend EAA AirVenture Oshkosh are a microcosm of the best of America, and frankly the world. Everyone respects one another, trash is never left lying around, and people are always smiling! Much of this was instilled by our founder Paul H. Poberezney. I knew from a very young age I wanted to be surrounded by these aircraft and these people.
Not a lot of folks know, there are many many chapters of EAA located all across the country with Oshkosh, WI being the home base for the organization.
Fun fact, EAA was founded in Milwaukee, WI in 1953 by Paul Poberezny for those who were interested in building their own airplanes. EAA expanded its mission of growing participation in aviation to include antiques, classics, warbirds, aerobatic aircraft, ultralights, helicopters, and contemporary manufactured aircraft. The organization was headquartered in Hales Corners in the early years, with the annual member convention first being held in Milwaukee. The convention eventually moved to Rockford, IL, where it quickly out grew the space in Rockford. While a new permanent home of the fly-in was being looked for, Burlington, WI almost became the home of the fly-in convention. In 1970 the fly-in moved to Oshkosh, with one of the key attractions being that the runways don't intersect, so multiple runways could be used at once.
What was your earliest memory of EAA or of air travel in general?
Camping in EAA's Camp Scholler in 1998 with my parents in the hottest weather I remember as a child and then having to jump in our pickup truck when a very severe storm rolled through in the middle of the night! After that, it was getting to listen to my childhood idols, General Chuck Yeager and Col. Bud Anderson discuss their adventures of flying P-51 Mustangs over Europe in WWII and then meeting them after their presentation.
So tell us about the One Week Wonder that you flew across the country recently?
The One Week Wonder (OWW) is an RV-12iS, which is a kit built aircraft from Van Aircraft. The RV-12iS a two-seat all-metal side-by-side airplane with a large cabin that seats the occupants. The aircraft meets the certification standards of the Light Sport Aircraft category, which makes getting airborne easier for individuals wishing to earn their pilot certificate.  The RV-12iS wings are quickly and easily removable. Using methods proven over decades in high-performance sailplanes, two people can have the wings off the airplane in less than five minutes, making it easy to transport on a trailer and keep off-airport. The aircraft uses a Rotax 912iS, which is a direct fuel injected engine that produces 100hp, and a cruise speed of about 120 to a 125 MPH.
The OWW was built in 7 days, by 2,500 volunteers at EAA AirVenture 2018 to help demonstrate the ability for someone to build their own aircraft. The aircraft is a part of the Experimental – Amateur Built rule, also known as the 51% rule, which states the no less than 51% of the aircraft is built by an amateur for educational or recreational purposes.
Any rough air or flight concerns on this trek across the nation?
Our biggest concern was some of the rougher terrain we would be crossing, and unpredictable weather. Coming from the land of the great green pancake, we don't have to deal with much in the way of mountain turbulence or other mountain weather. In addition, crossing the southwestern desert was going to be hot, real hot. So we climbed up to 11,500 feet to stay out of the heat.
You made a video series about your trip, does it surprise you how well received you were out west and how much folks enjoyed watching the video on social media?
Although EAA is based here in Oshkosh, we have over 235,000 EAA members and 900 chapters worldwide. However, the further the members live, of course the harder it is for them to get to Oshkosh for our annual member convention "EAA AirVenture Oshkosh." (Flying a small aircraft across the Rockies is no small feat!) Therefore, any time we can get out of the Midwest, and hit one of the coasts, especially the west coast, we are able to interface with a lot of members and chapters we don't normal get to see face to face. The chapters and members were so grateful for our visit, and it was so rewarding to see what our members at those chapters are up to. They truly help our organization go 'round. EAA chapters are key to support many of EAA's key programs, Young Eagles, which provides free introductory flights to youths ages 8-17, The Ray Aviation Scholarship Program, which awards nearly $1.2 million in flight training scholarship, and all the support someone homebuilding their own aircraft could need. So, any chance we can visit them and thank them for all of their volunteer support is worthwhile.
Can you tell us something about EAA that us common folks may not know?
I touched on this a little earlier, and how strong EAA's ties are to southeastern Wisconsin. In addition there are 3 local EAA Chapters in the Kenosha area. (EAA Chapter 414 – Waukegan, IL: EAA Chapter 217 – Kenosha, WI: and EAA Chapter 838 – Racine, WI)
Additionally, EAA is key to the state of WI economics. Recently, the Univ. of Wisconsin Oshkosh conducted an economic impact study. The study revealed that EAA AirVenture Oshkosh brings an estimated $170 million dollars of economic impact to the Fox Valley area. That is more in the span of just over one week, which is more than Green Bay Packer home games provide. Even more impressive, over 70% of the $170 million is out of state dollars, meaning that it is all new dollars coming into the state.
Keeping it more local, I know you were a huge fan of Frank Matrise, Jr, explain what he meant to you.
Man, I am not even sure where to start with Coach Matrise. For me, my life has always revolved around Aviation, IndyCar Racing, and Football. You can now add my wife, Michelle to that list! But Coach really brought out the best in my love for football. He brought out the hard work required to succeed, but more importantly how that hard work and dedication applied to life away from football. One of coach's biggest lessons was to remind our team to focus on the little things. If you do all the little things right, then the big things will work out. I have taken that lesson from my days with Tremper Football and strive to apply those to my everyday life. My profession, supporting my wife, piloting an aircraft, anything.
And speaking of aviation, Coach was so supportive of my interest in aviation. He would brag about me to fellow coaches, the Kenosha News, competitors, everyone. And he made me feel proud of my love for flying. He would always say "This is David Leiting, he is going to fly planes someday, just you watch!"
So what can we expect next from our former Kenosha "eye in the sky"? 
I would love to spend a long career at EAA. I absolutely love what the organization stands for, how fantastic our members are, and how the passion and dedication of our members can move mountains.
No one gets to chase a dream career like you have without the help from a lot of people, who helped get you to where you are today?
Without a question, my parents, Patty Ramsdell and Dave Leiting Sr. They supported my love of aviation from day one, and continue to be two of the most supportive people in my life. In addition, my aunt Sue Leiting has always been one of the most passionate and energetic supporters of mine. My wife Michelle continues to push me and always finds new ways to motivate me. On a professional level, my former University of North Dakota professors Dan Malott and Pete Schumacher truly helped me grow as an individual.  And lastly is my close friend and colleague Kreg Anderson, who is the country's youngest airport manager at the age of 25!
One last question, would it even be possible for a man of size like myself to ride shotgun in the One Week Wonder or would we be banking right so hard that our trip to California would land us somewhere near the Arctic Circle?
Ha! This aircraft has an amazing performance capabilities, so we would have no problem making the trip!