Remembering Tremper's Dominant Football Teams of '79 and '80
Ken Zigner: A True Champion of High School Football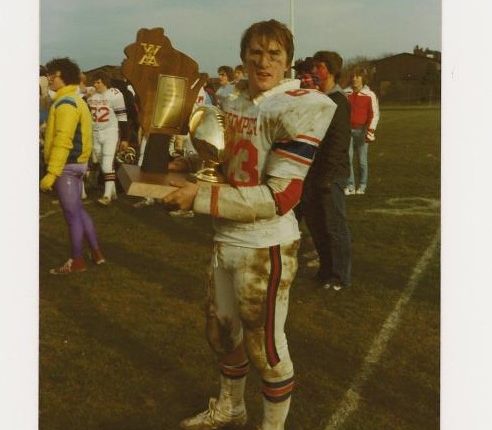 Can you possibly believe that it has been 40 fricken years since your Tremper Trojans dominated the high school football landscape?
NO, it seems like just yesterday we were playing in front of record crowds. 
Was there one dude you had a personal battle with that you really enjoyed…opponent or teammate? 
No one person, but Racine park was the team that was our rival, Junior year it was our homecoming and it was a war, #1 in state against #2. They had a great team and we beat them 27-6. That was the day I met James Bester from Racine Park. He was the best lineman I ever went up against. Big, fast and mean as hell. 
Tell us something about Ron Davies that maybe we don't know. 
Ron had a few rules, no facial hair, no swearing, and the famous 3 D's, Dedication, Discipline and Desire. He believed that GOOD KIDS WIN BIG BALLGAMES. 
Any one play or series stand out in your mind as special? 
State Game 2 against Wisconsin Rapids. Their game plan was to wear us out because we had about 7 guys playing both sides of the ball. They had none. They were in and out of the huddle running up to the line. Lots of turnovers in the game and one goal line stand that we held them out of the end zone. 
What do you think about the game of high school football today? 
I love the high school game today, the thing I don't like is teams don't huddle up and way too much passing. 
What do you think about Tremper High School Football today? 
Tremper Football is getting better. The kids are so big now, I started at guard and weighed 175 lbs as a junior went to strong side as senior and was 190 lbs. Oak Creek and Franklin lines are averaging about 270 lbs year after year, I don't know where they get these kids?? 
Having coached many years, did you coach with the intensity that you played? 
Coaching at Lance was a lot of fun, I miss the kids but not the crazy parents and grandparents. I never yelled at the kid during a game. That's what practice was for, to get them ready for the game and to have no need to yell. And of course, never used a curse word because I was taught by Coach Davies. 
Any regrets from your days at Tremper? 
No regrets 
Which team was better 1979 champs or 1980 champs and why?
1979 had more talent. 1980 was a better TEAM. The starting defense gave up 1 field goal against Milwaukee Madison and 1 touchdown in the finals against Wis. Rapids. We loved to hit and we hated it when a team would get a first down. If we won the flip we would play defense, get the other team in the hole and then score. 
How do you feel your championship teams would have done against the 2018 champs or the yet-to-be-crowned 2019 champs? 
These kids are soooo big now. If we were the same size, we would win. We were a bunch of tough young men that loved to hit and play smart and of course we would have followed Coach Davies into a fire if he told us to. That man was the greatest coach this town has ever seen and ever will see. 
Last question, OK it's you, Kadamian, McGeough, Robers, Pientok, Bernhardt, and Cairo…how far could you dudes move a 7 man sled…..today? 
Well I can only speak for myself about the sled, bad back and knee now, that sled isn't moving because of me. Now 40 years ago, that sled would be flying in the muddy field next to the school. Seems like just like yesterday, the double days are over…