Round 2 West Regional Results
Brat Stop hung a tournament high score on Finney's West en route to an easy 99-74 win, "World Famous" AND a pretend Sweet 16..good as it gets.
Club Icon becomes the second 12 seed to punch their ticket to the Sweet 16 with a 85-72 victory over Sullivans.
Rivals easily handled sentimental favorite Town and Country Lounge by a final of 88-64, and the I-94 bars continued to roll.
Completing the sweep, Highway Mike's pummeled Gordy's 93-73 and the I-94 bars in the West left no doubt that the interstate saloon's were in it to win it.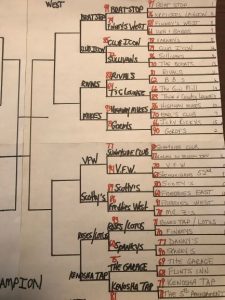 Round 2 Midwest Regional Results
Another No 1 seed falls as the VFW easily took care of top seed and tournament favorite Sunnyside Club by a final of 94-77.
The closest game of the day had Scotty's outlasting Freddie's West 89-86.  Scotty's used one of their 9 lives to stay open and another one to make the Sweet 16.
Rose's/Lotus dispatched Spanky's with a convincing 93-60 victory.  They are now poised for an epic battle for 60th Street.
The big stunner of the of the day saw 15 seed Our Kenosha Tap defeating The Garage 81-75.  The Sweet 16 is set..if your team got knocked out today, blame my granddaughter..she picked the scores.
Friday's Match-Ups
Brat Stop v Club Icon
Rival's v Highway Mikes
V.F.W. v Scotty's
Rose's/Lotus v Our Kenosha Tap