Round 2 East Regional Results
The Port of Kenosha used  a Dr Destruction Metal Marathon to rock top seed Stan's by a final of 97-80 and punch the first ticket to the Sweet 16.
Again, The Power of the Pacer and other AMC greatness inside the Puzzle House proved too much for Interlude and Puzzle House moved on by way of a W in this 92-89 slugfest.
Cheers made quick work of TG's and cruised to a 96-73 victory,  It was one of the easier wins of the second round.
Coins held serve and fought off a valiant effort from Swede's.  In the end there were just too many great players that have hooped for Coins and they won 69-63.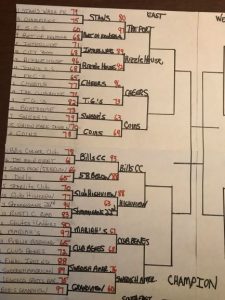 Round 2 Southeast Regional Results
Top seed Bill's CC held off a late comeback from Sports Page/58 Below by a final of 93-88.  Bill's is the first No 1 seed to advance to the Sweet 16.
Club Highview kept the upset train rollin with a 88-63 victory over Shenanigan's on 22nd. The first 12 seed to make it to the Sweet 16 is poised for a deep run.
In a game no one wanted to win, Club Bene's inches past Mariah's 68-67.  Face it…it was a snoozer.
And yet another pretty big upset with The Swedish American handling Bob's Grandview 76-60.  The first half of the Sweet 16 is set for games Thursday.
Thursday's Match-Ups
The Port of Kenosha v Puzzle House
Cheers v Coins
Bills CC v Club Highview
Club Bene's v Swedish American