The Big Dance of Kenosha Bars Final 4: Cheers, Swedish American, Mike's and Kenosha Tap
Cinderella remains as the last No 1 falls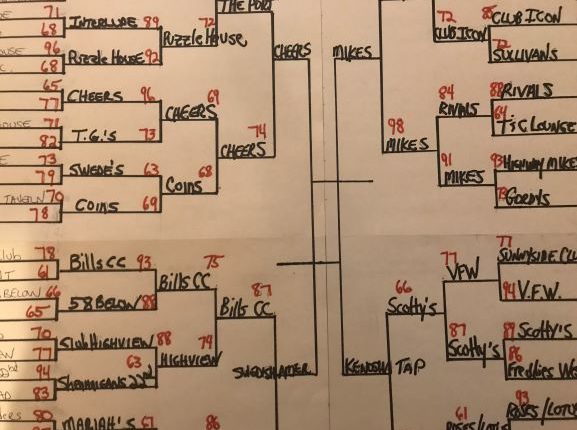 The Final 4 of The Big Dance of Kenosha Bars is set.  Representing the East Region is the No 6 seed Cheers by way of victories over Fec's, TG's, Coins and The Port of Kenosha.
Representing the Southeast Region is the No 7 seed Swedish American Club with victories over Final Inning, Bob's Grandview, Club Bene's and Bill's Corner Club.
Representing the West Region is the No 10 seed Uncle Mike's Highway Pub posting wins over Earl's, Gordy's, Rivals and Club Icon.
And representing the Midwest Region is 15 seed Our Kenosha Tap that bested The 5th, The Garage, Rose's/Lotus and Scotty's en route to the Final 4.
Here is how the Regional Finals played out and any issues with the scoring can again be taken up with my 5 year old granddaughter.
East Regional Finals:
Cheers once again just gets the job done in a very workman-like victory over The Port of Kenosha by a final score of 74-62.  A vintage bar-that-looks-like-somebody's-house style establishment, Cheers has been a mainstay of that north and east quadrant of Kenosha for quite a spell.  Congrats to an unlikely participant in this most unlikely Final 4.
Southeast Regional Finals:
The Battle of 30th Avenue belongs to The Swedish American Club by way of a 91-87 win over Bill's Corner Club.  This was a classic KTown bar brawl pitting two long-standing saloons against one another for bragging rights.  The Swedish American now holds those bragging rights and will take on Cheers for a trip to the finals.
West Regional Finals:
Mike's just continues to pile up points as they outlasted Club Icon by a final of 98-96 to advance to The Final 4.  Mike's is averaging a ridiculous 92 points per game and they needed every bucket to stave off a late rally by Club Icon.  The east frontage road of i-94 was well represented by these two fine entertainment venues.
Midwest Regional Finals:
The  clock has yet to strike midnight on Cinderella bar Our Kenosha Tap as the perennial underdogs won again with a 80-66 triumph over Scotty's.  Kenosha Tap has done nothing but post solid and unspectacular wins over every favorite they have faced.  They will need all of the support they can get going up against a high scoring Mike's squad.
The Final 4
Game 1
Cheers (6) v Swedish American (7)
(Line: Pick 'Em)
Game 2
Highway Mike's (10) v Kenosha Tap (15)
(Line: Mikes -7.5)