East Regional Round 1 Scores
Number 1 seed Stan's had their hands full with Champions but pulled out the W 79-75.  Probably was a Tom Barnhill "put-back and one" with time running out.
The Port of Kenosha took care of Club SOS 68-60 and now a match-up v Stan's looms in Round 2
The third shifters ruled as Interlude got an early start and rolled to a 71-68 win over Bindelli's City Zoo
Puzzle House used all of it's AMC power in the bar to handle John's Country Club with a decisive 96-68 victory.
Cheers can't decide if they are a Packer Bar or a Bear Bar or just a bar but no matter which, they logged a nice W over Fec's 77-65.
TG's used a strong showing on meat loaf night and Irish Car Bombed their way to a 82-71 victory over The Clubhouse.
Relative newcomer Swede's went toe to toe with longtime KTown classic venue The Boathouse and came out on top 79-73
Coins rallied behind Mark and was able to cruise to a 78-70 win over Union Park Tavern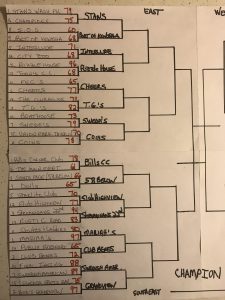 Southeast Regional Round 1 Scores
Bill's used help from ALL of the Mogensen brothers to pull out a 78-61 victory over all of the Lees brothers at the Main Event.
The closest game of the first round thus far was Sports Page/58 Below squeaking past Dolls 66-65.
In the big upset of the first round thus far, George's Club Highview took down Starlite Club by a final of 77-70…sorry Gratzi
Matt Meyer must have went old-school jammin at Shenanigans on 22nd to rock the home team to a 94-83 win over Rustic Road.
Mariah's unleashed the hounds and rolled up tons of offense in their 97-80 victory over Chutes and Ladders.  Game MVP was Shirley from WLIP who has her own personal table there.
Club Bene's did what club Bene's does, just gets it done under the radar with a convincing 72-65 win over Public Brewing
It went down to the wire and the barn burner of the first day of the KTown Bar Big Dance was Swedish American wining at the buzzer over Final Inning with a score of 89-88.
Bob's Grandview made quick work of Legend's Sports Bar 97-75