West Regionals Round 1 Scores
Number 1 seed Brat Stop seems committed to "winning one for Raz" with an impressive 97-76 victory over The Lagoon
The folks at Finney's West "Have A Happy" with an easy win over Ken and Babe by a final of 88-61
Club Icon pulled the first shocker of the day by clubbing Varney's 79-78..the dance floor is open!!
Sullivans used the ju-ju from all the NFL football fans to notch an impressive 86-70 win over The Bohats
Rivals kept the I-94 bars in the W column with an impressive 81-62 blowout over BB's.
Town and Country Lounge used the spirit of many of the people that used to make that place unique and posted an easy first round win v The Gin Mill by a final of 83-66
In a game billed as the sand volleyball battle of the ages, Highway Mike's pulled the upset besting Earls 86-70 and the bars on I-94 continue to roll.
In another blowout, Gordy's was reppin Pleasant Prairie when they dismantled Icky Ricky's by a final of 90-66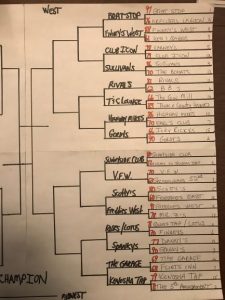 Midwest Regionals Round 1 Scores
Number 1 seed and one of the tournament favorites, Sunnyside Club, had all they could handle posting an 80-77 over Norm's.  Perhaps Norm was Inn?
In winning one for our veterans, The V.F.W. was impressive with a wire-to-wire victory over Shenanigans on 52nd by a final score of 70-63
Scotty's once again "unretired" and pummeled Freddie's East 80-60.
Freddie's West stayed open way late and promised all fans a "Big Fred Sandwich" after moving on with a 91-78 win over Mr. Z's.
Rose's/Lotus began a mini-run on upsets in the lower half of the Midwest Regional by upsetting Finney's 71-70
Spanky's held serve and blew past their former neighbor-across-the-street Danny's 90-77.
In another close game that resulted in an upset, The Garage fixed Flints by a final score of 69-68.
And the biggest upset of the tournament came in the final game of the first round as Our Kenosha Tap took down The 5th…thats right..The 5th with a final of 79-71
Round 2 Match-Ups
Stans v Port of Kenosha
Interlude v Puzzle House
Cheers v TG's
Swede's v Coins
Bill's v 58 Below
Club Highview v Shenanigans on 22nd
Mariah's v Club Benes
Swedish American v Bob's Grandview
Brat Stop v Finney's West
Club Icon v Sullivan's
Rivals v T&C Lounge
Highway Mikes v Gordy's
Sunnyside Club v V.F.W.
Scotty's v Freddie's West
Rose's/Lotus v Spanky's
The Garage v Kenosha Tap