Much thanks and love to "Slick" Rick Mogensen for reminding us all what an amazing time of our life that was. It is easiest to describe this championship run in chronological order (sort of):
Sabrina Apker Scifres is named head coach with her father Larry Apker as her assistant. Absolutely the two perfect people for the job. Sabrina, a former Tremper star with a pocket full of Missouri State volleyball records leading to her induction into their Hall of Fame in 2014. Tactical, negotiable, and always all business. Larry, a local law enforcement leader and absolutely one of the most fierce competitors in the history of KTown.
Tricia Tirabassi transfers from St. Joes. Here was the X factor. Tricia was the best setter in the state….period. The most important element of this addition was the way her arrival was handled by Senior Co-Captain Lauren Mogensen. Mogie had earned the right to be setter but she knew the team would be stronger by moving to the back row and with Tricia setting.
Superstar Co-Captian Abby Padlock gets hurt and spends most of the early part of the season on the bench. This allows for the growth of Sophomore Mallory Robinson who quietly becomes a huge part of this team and essentially never leaves the floor. Junior Caitlyn Richter plays strong while Padlock is out.
The regular season ass-kicking the Trojans took in conference play at Burlington. With Padlock still sidelined, Tremper was completely outclassed by the 6th ranked Demons in their gym. Being a state contender was not the first thing on anyone's mind after that game, and sitting next to Rocky T and watching and listening to him lose his mind was spectacular.
The Kenosha Krush Tournament debacle. A scheduling miscommunication turned what should have been a large, home tournament for the Trojans, into more of a three-team round robbin, and again the Trojans played poorly. Coach Sabrina was disappointed, Coach Larry was way past disappointed and let everyone know this was not how championship teams acted. This was the turning point of the season.
Padlock returns and things begin to come together. Middle Hittters Mariska Van Den Berg and Becca Kelly are now bona fide weapons, Beth Larsen is very solid blocking and attacking from the right side and Amanda Spaay matures into her role as Libero and along with Mogie, leads a back row of defense that can contend for a title. Tricia Tirabassi goes from fantastic to almost perfect the last quarter of the season.
Playoffs: The Trojans cruise through Regionals and role players Caitlyn Richter, Taylor Deitman, Katelyn Hegewald, and Diane Ewens get their payoff in tournament playing time. They all accepted their roles on a championship team They never took even one practice off when playing time was hard to come by.
Sectionals: 9th ranked Tremper travels to Janesville Craig to take on 8th ranked Westosha Central. Coach Charlie Berg always has a solid squad but they were no match for the Trojans and Tremper wins surprisingly easy. The Sectional Finals goes down at Lake Geneva Badger, a rematch against Burlington. Once again, this was a hard-fought game but by this time, the Trojans were rolling and they gutted out the trip to state.
State at The Resch Center in Green Bay. Quarter-Finals against 10th ranked Middleton. Molly and Kirby Toon (daughters of former UW standout Al Toon) paced Middleton but one of them was hurt. Tremper really handled Middleton and headed to the Semi-Finals against 3rd ranked West Bend East. Once again an injury to a stud, this time an in-game injury for West Bend East, cemented the Trojans dominance and they make their way to the Finals against No 1 in the state, Milwaukee Pius XI.
The Finals: The Trojans (33-13) take on Pius (42-5), who had to get through No 2 Muskego to make it to the finals. After their semi-final loss, the Muskego players made sure the Trojans and their fans heard that they believed that Pius v Muskego should have been the final match and that there was no way the Trojans stood a chance against the best team in the state all year long.
State Game Highlights: Middle Hitters Van Den Berg and Kelly took slide-set after slide-set from Tirabassi and just pounded balls at the Pius D that they had few answers for.
Padlock was damn near super-human. It is hard to imagine anyone playing any better in a championship run regardless of age, gender, or sport. A relentless attack from every angle on the floor. All the talent in the world and all the confidence to match it. No one on that team could possibly give less than their best when you play with someone playing at that level.
"The Block Heard Round the State". With the Trojans leading two games to one, right-side hitter Beth Larsen found herself one on one with the best player in the state not named Abby Padlock…Pius outside hitter Caroline Langer. The score was tied at 23. Larsen completed the improbable solo block and the Trojan sideline erupted. Larsen was so emotional she was literally moved to tears. Fortunately, a time-out was called…this game was not over.
Mogie finishes it. Senior Co-Captian Lauren Mogensen had made a year-long sacrifice for the good of the team. She welcomed Tricia Tirabassi as the team's setter and fellow leader with a selfless attitude you can only hope to get from a team captain. Now it was her time to show what a true leader does…facing the biggest moment in Kenosha High School Volleyball history. Mogie's floater serve knuckled perfectly at the last second for a service ace and the KTown faithful collectively lost their shit. State Champs!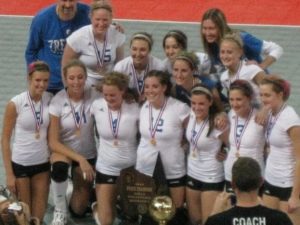 After a team celebration, the whole group rolled back into Kenosha, and waiting for everyone at I-94 and Hwy 50 was a full-blown Sheriff/Police escort for the caravan's ride into town and back to Tremper. Assistant Coach Larry Apker was once again silently huge for arranging this and for many other things. He backed his daughter's play the whole year. He sat beside his All-American kid as she made great decisions all year. And when his fire was needed, he was always on the clock.
No way that seems like a dozen years ago. Personal thanks and love to those who helped my wife and I forge some great personal memories. Rick and Kim Mogensen, Rocky T, Roland Van Den Berg, Bert Robinson, and Mr. Dominic Tirabassi Jr. And we are forever proud of our state champ Katelyn Hegewald. It was tough to find PT when you play on a state championship team but you accepted your role, you learned, you listened and I know it was the type of experience that has made you the successful volleyball coach you are today. Crazy Proud!
Congrats 12 years later to the women that made that run. The group that took on Pius at the Resch Center in 2008 to win it all is likely the best high school volleyball team Kenosha has ever seen.