Earlier this semester, we brought you the story of Northside Outfitters inside of Bradford High School here in Kenosha. The founder of this entity, Bradford teacher Michelle Ishmael, wanted to not only give KSE an update on the newest news from this Bradford Basement Boutique she also wanted to thank Kenosha Sports Extra followers for their generous support.  "I am amazed at the generosity the Kenosha community has shown!  Donations have been arriving nearly every day and staff is working to get things washed and available to students", said Ishmael. "Some items have gone home with students even before we can get them on the racks"!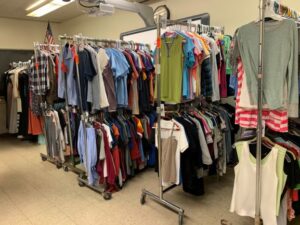 And as if creating your own in-house thrift store for the benefit of your students wasn't a large enough accomplishment, Michelle cements the "2020 reality" behind this project by immediately adding in virtual choices.  "We have two options for students to shop virtually. Option 1 is to send a list of the items they need plus a little bit of information about their personal style so staff can shop for them.  Option 2 is to schedule a video call so they can see the store and choose their items".  This is truly the intersection of technology and the spirit of giving. And most importantly a need is met and an extended family is served.
Charitable donations are the life's blood of this project and there is an ongoing opportunity to become involved.  "Warm clothing continues to be what most students are looking for", Ishmael said. "Coats, hats, gloves, shoes, socks, sweatshirts, and leggings draw the most interest.  However, many students are delighted when they find splurge items.  Things that aren't necessities like dresses, jerseys, hair products, and lip balm bring an extra bit of joy!". And cash donations can also be made to help support Northside Outfitters.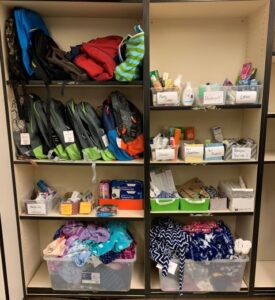 At the end of the day, this is about helping any members of Bradford Nation who are in need. "Since the beginning of November, almost 50 students have shopped at Northside Outfitters", said Ishmael.  "Some have just needed one thing – a winter hat or a sweatshirt.  Others have needed almost everything.  And many have asked to shop for family members and are delighted when they are able to bring things home for parents or siblings". This is an organization that deserves all the support one can lend.
Checks can be mailed to:
Bradford High School
℅ Northside Outfitters
3700 Washington Road
Kenosha, WI  53144
Please make checks payable to Bradford High School.
Please include your contact information so we can properly document your contribution. 
*My personal thanks and love to those of you that I know contributed after reading the initial story. The fact that I do not know you and was still able to present something that resulted in something good for many people, is important to me. Michelle asked me to thank you as well.