MLB to Crown Home Run Derby VR Champ during All-Star Game Week on July 16
First-Ever Competitive Championship Tournament; Open to All Fans Attending All-Star Week!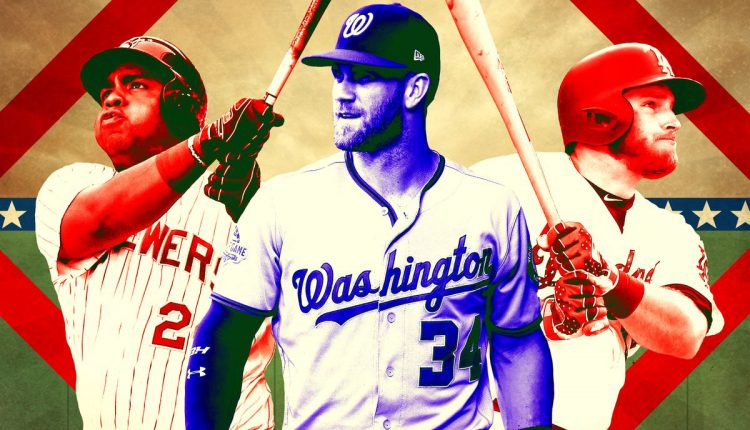 A few hours before the best home run hitters in Major League Baseball (MLB) take the field at Nationals Park on Monday, July 16, MLB will crown its first-ever Home Run Derby Virtual Reality (VR) champion. Video game players and fans of all ages attending GEICO All-Star FanFest or PLAY BALL Park from July 13-15 will have the opportunity to qualify for the inaugural MLB Home Run Derby VR Championship competition, which will be held on Monday, July 16, by playing the Home Run Derby VR video game experience at either venue.
A special All-Star version of the VR game featuring Nationals Park will be used for all qualifying and championship competitions in which fans will have 90 seconds to hit as many home runs as possible using a proprietary VR bat controller. The VR experience combines the Vive tracker to bring a real bat into fans' hands. This game was developed by the MLB Games and VR team and will be powered by HTC's Vive Pro, giving participants a premium VR experience.
The championship tournament, held at GEICO All-Star FanFest beginning at 2pm (ET), will feature the top 32 eligible home run hitters from the previous three days of qualifying play in a bracket-style competition. All three hours will be streamed live to multiple platforms, including Twitch, YouTube, Facebook, YouTube and Mixer, and will feature commentary from MLB Network's Alexa Datt, gamers RealShelfy (@RealShelfy) and Fuzzy and nine-time MLB All-Star Fred Lynn, as well as special viewer giveaways.
Datt, Lynn, RealShelfy, and Fuzzy also will present the grand prize winner, MLB's first-ever Home Run Derby VR Champion, with a custom Tiffany & Co. Official Derby trophy as well as a grand prize package that includes four (4) tickets to the 2018 MLB All-Star Game presented by Mastercard, an Official 2018 Commemorative Louisville Slugger bat featuring custom Lizard Skins grip, a custom 2018 All-Star Game jersey, an official 2018 MLB All-Star Game on-field cap for any MLB team and a one-year subscription to MLB.TV.
DAILY SCHEDULE (All times are Eastern)
Friday, July 13 – Qualifying (9am-8pm @ ASFF; 10am-7pm @ PBP)
Saturday, July 14 – Qualifying (9am-8pm @ ASFF; 10am-7pm @ PBP)
Sunday, July 15 – Qualifying (9am-8pm @ ASFF; 10am-7pm @ PBP)
Monday, July 16 – Championship Competition (2-5pm @ ASFF)
Fans can even watch, streaming platforms to include:
Twitch (https://www.twitch.tv/mlb_games)
Mixer (https://mixer.com/MLB_Games)
YouTube
Facebook Live
MLB.com, MLB At Bat app
For complete details on the Home Run Derby VR Championship, please visit mlb.com/hrdvr-championship.
In April, MLB commercially launched MLB Home Run Derby VR for play on HTC Vive and Sony PlayStation®VR, putting the action and power of every swing in fans' hands with unique motion controls. The game, which features three All-Star ballparks from 2017-19, was the first console VR video game built by a U.S. professional sports league.
From their homes, fans can step into Marlins Park in Miami, Nationals Park, and Progressive Field in Cleveland to hit home runs and tally as many points as possible in the timed home run competition. Each of the three ballparks are authentically recreated utilizing high-fidelity 3D environments, making the virtual competition come to life in ways never before possible. The worldwide leaderboards showcase fans' standings for the game on both Sony PlayStation®VR and SteamVR, which retails for $19.99 (U.S.).
Prior to debuting the commercial version of this game, the enterprise edition was available at numerous global event activations including MLB Battlegrounds (London), MLB All-Star FanFest (Miami), numerous MLB Club events, and the recent Puerto Rico and Monterrey series.
In addition, at least 12 MLB ballparks are hosting an in-venue setup of the VR video game for fans to play when they're attending games. Those include: Arizona, Atlanta, Chicago (AL), Houston, Miami, Minnesota, Oakland, St. Louis, San Diego, San Francisco, Tampa Bay, and Washington. Each of these individual activations features a customized recreation of its respective ballpark.
MLB Home Run Derby mobile – 'The Derby on Your Devices'
Fans can also experience the thrill of Derby competition by downloading and playing the award-winning mobile game, MLB Home Run Derby, for phones and tablets. Hi-res renderings of this year's participants will be added to the game shortly after they are announced on The 2018 T-Mobile Home Run Derby Bracket Show on ESPN (7/11 @ 10pm ET), joining the more than 50 participants from the past eight competitions already available.
MLB Home Run Derby, also developed by MLB Games and VR and available as a free download on the App Store and Google Play, entered the season with its most significant feature upgrades since debuting five years ago. Now including all 30 current MLB ballparks, fans have been playing at record levels in single player and multiplayer modes for a chance to compete against more than 11.8 million game players in daily tournaments.